Cargo Data Announces USB Temperature Recorder optimized for Export and Domestic use
Ventura, CA: Cargo Data, Inc. announces a strategic temperature monitoring product expansion that includes its Quality USB digital temperature recorder.
Quality USB temperature recorders are designed to provide reliable & economical temperature monitoring for domestic and overseas shipments. Using the mini USB 2.0 interface that is supported globally, Receivers anywhere can easily connect the recorder to their computer. Quality USB is a perfect replacement for obsolete strip chart recorders and provides unmatched reliability, accuracy, and flexibility. Quality USB's small size makes it ideal for slipping inside shipping cartons. A moisture protective pouch protects Quality USB from water fouling in use.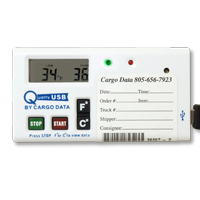 Quality USB is ideal for use in the transportation of temperature sensitive products such as perishable foods, floral, chemical, and pharmaceuticals. Quality USB is available in 10 to 80 day models.
Data from Quality USB is supported by Cargo Data's free KoldLink App. featuring an industry unique feature called UpLink. Cargo Data's UpLink allows receivers the option to automatically upload temperature recorder data to Cargo Data's secure online data server. This capability allows all interested parties to view and print temperature recorder data by simply entering the serial # from any Cargo Data temperature recorder.
Cargo Data invites you to visit its all-new website at http://www.cargodatacorp.com to download the free KoldLink App and learn more about Cargo Data's full line of cold chain monitoring solutions.
Contact Cargo Data, Inc. at 800-338-8134 or information@cargodatacorp.com.